November 12th, 2017
We are happy to announce that on December 15th Round Hill Music will release a 20th Anniversary limited edition of Ixnay On The Hombre on Vinyl. It will feature 180g opaque gold vinyl, a textured jacked with gold foil print, a matte custom printed sleeve and a heavyweight insert printed with gold foil and suitable for framing. Pre-order information will be announced this week...
October 19th, 2017
San Diego! We're returning to Del Mar Racetrack on Saturday, November 25! Click here for more info.
October 16th, 2017
Our
Oct 30th and 31st
Ixnay
On The Hombre shows at The Observatory have
sold
out!
We've added another
show
on
Thursday,

November

2nd
which is on sale right now. We'll be joined by The Crowd.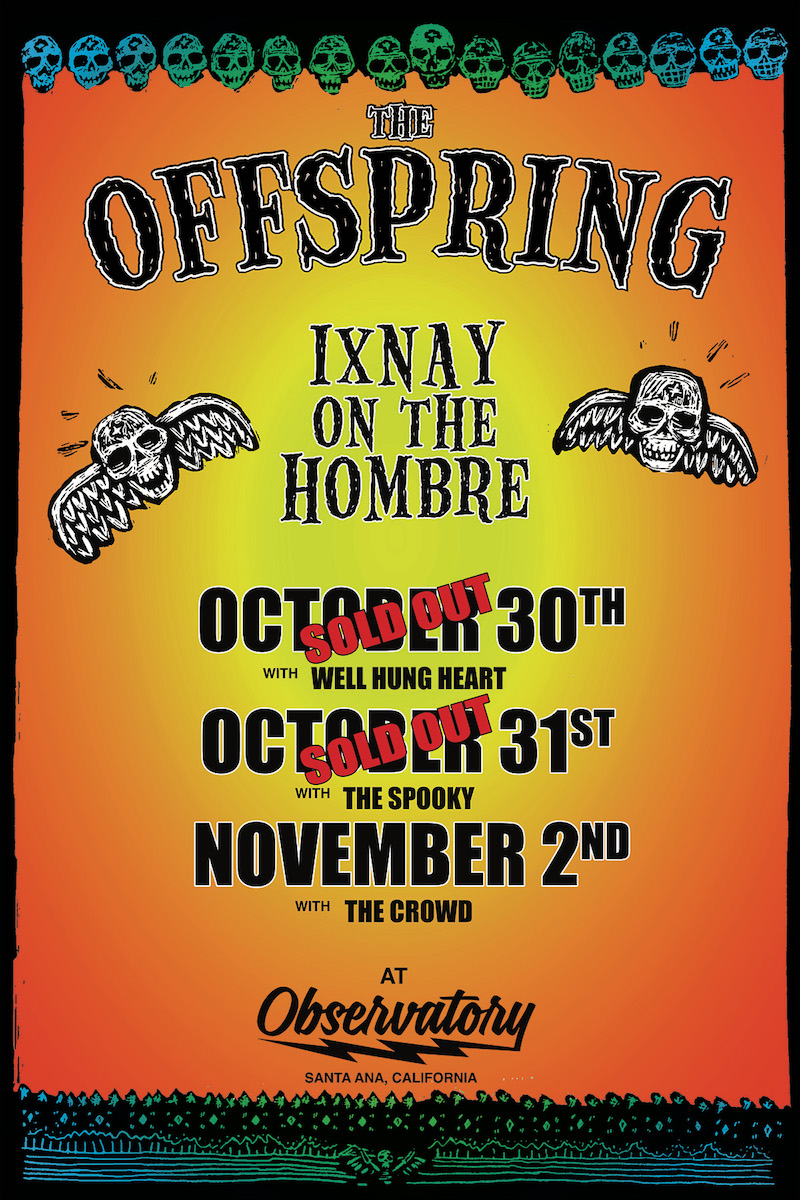 October 1st, 2017
We had such a blast playing
Ixnay
On The Hombre in full at the Amnesia Rockfest in June that we have decided to do it again before this year slipped away from us. We will be playing a few
Halloween
shows where we'll perform the album in full (plus more) on October 30th and 31st at our favorite local venue, The Observatory in Santa Ana, CA.
Well Hung Heart will join us on the 30th and The Spooky will appear on the 31st. We encourage everyone to come in costume both nights. We'll open the doors a bit earlier for those in costume and we'll have some awards for best costume. (no face masks and make sure you just take up space for one person..)
A pre-sale for these shows will start on Wednesday Oct 11th at 10am - the password is: IXNAY. There is a 4 ticket limit per show. If you want to attend both nights, you will be able to add tickets for one show to your cart and then do the same for the other show before you check out.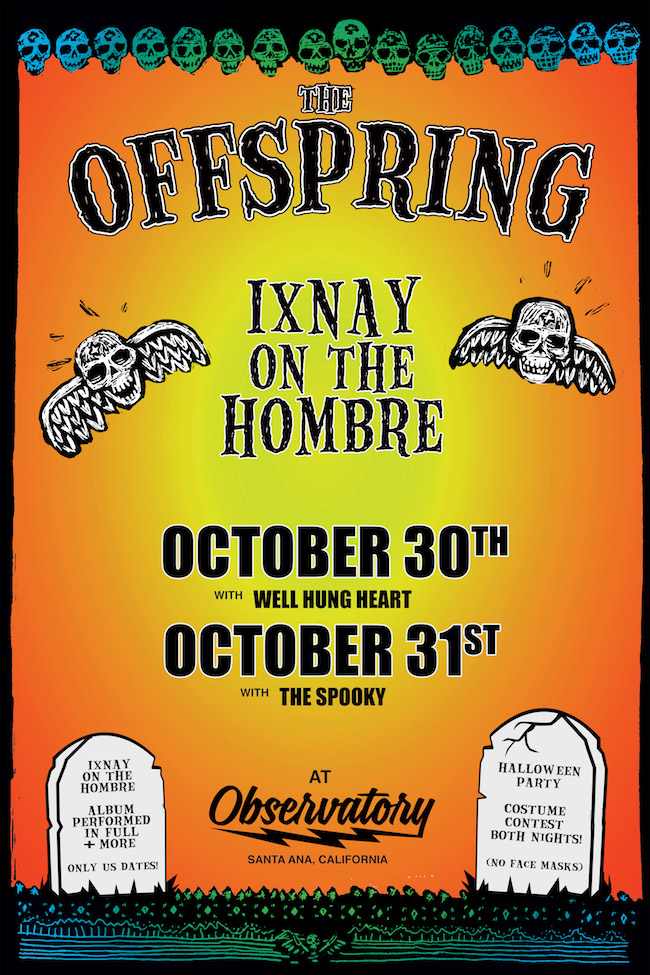 August 23rd, 2017
Canada - excited to make our return this October for shows at CN Centre in Prince George on 10/24 + Revolution Place in Grande Prairie on 10/26! Pre-sale tickets are available right now thru Thurs 8/24 at 10pm local using password 'IXNAY'.
General on sale begins this Friday, August 25 at 10am local for Grande Prairie + 12pm local for Prince George at
offspring.com/tour.
August 21st, 2017
Excited to announce that we'll be joining Flogging Molly Cruise on the Norwegian Sky to Key West + the Bahamas from April 20-23, 2018 with Flogging Molly, Buzzcocks, The Adolescents, Mad Caddies + more! General on-sale begins this Thursday, August 24 at 12pm et at floggingmollycruise.com.
August 1st, 2017
Excited to join 311, Cypress Hill and more at 93.1 JACK FM's 12th Show on Saturday, October 7 at FivePoint Amphitheatre in Irvine! Pre-sale begins WED 8/9 at 10am thru 10pm pt using password 'IXNAY' + on-Sale begins FRI 8/11 at 10am pt RIGHT HERE.
July 21st, 2017
Excited to have The Menzingers joining us + Sublime With Rome on tour this Fall! Pick up your tickets for all upcoming shows now at offspring.com/tour.
May 11th, 2017
Dexter here. Well we're gearing up for another busy year touring (and recording), and I can't wait. In fact I'm actually writing this from our tour stop in Charlotte, NC before our show here this weekend. I know I haven't posted much for awhile - cause I've been busy!
This is sort of an announcement that I completed my dissertation defense and that means that I'll be graduating on May 11 with a Ph.D. in Molecular Biology from the University of Southern California.
You might ask, why are you getting a Ph.D.? Well, pick the correct answer from the choices below!
C) I am interested in the molecular dynamics of HIV infection and of virus:host interactions in general
No, the answer's not all three!…actually, as many of you already know I started the Ph.D. a long time ago but put it on hold when we started touring a lot. I finally went back a few years ago. To finish I had to research and write a thesis, or dissertation, which is kind of like the biggest term paper you'll ever do (mine is about 175 pages).
My research focused on the human immunodeficiency virus, or HIV, the virus which causes AIDS. I am interested in virology and wanted to contribute in some small way to the knowledge which has been learned about HIV and AIDS. This terrible disease remains a worldwide epidemic - over 35 million people worldwide are currently infected and living with the HIV virus. Over one million people a year die from this disease.
My research is not meant to be a cure or even an immediate step toward a cure, but I believe that by adding to the vast amount of information that we've learned about HIV in the last 30 years or so, we'll get there. Toward that end, I'm going to continue to do research, and you'll probably see some of my research papers get published here and there over the next few years.
So, what does this all mean for the band? It means…the BAND IS BACK ON! Well, we never really stopped touring and making records, but we'll be doing a bunch of shows all around the world this year plus recording new stuff every chance we get. Look for new music by us out soon.
PS - Here is the title of the thesis. Click on the link if you'd like to read it:
"Discovery of Mature MicroRNA Sequences within the Protein-Coding Regions of Global HIV-1 Genomes: Predictions of Novel Mechanisms for Viral Infection and Pathogenicity"
smarturl.it/DexterThesis